Disclaimer: Testimonials appearing on this site are individual experiences, reflecting real life experiences of those who have used our products and/or services in some way or other. However, they are individual results and results do vary. We do not claim that they are typical results that consumers will generally achieve. The testimonials are not necessarily representative of all of those who will use our products and/or services.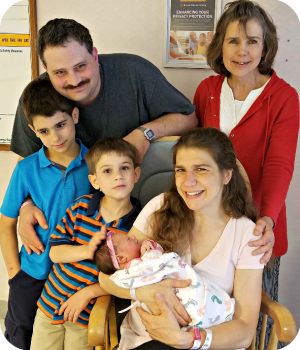 Natalie's Fertility Success Story
After achieving pregnancy with their first two children easily, Natalie & Micheal spent 5 years trying for a third child.
What was your fertility journey prior to finding Natural-Fertility-Info.com and the NaturalFertilityShop.com?:
My husband and I married at ages 40 and 32 respectfully and easily conceived two sons within the first two years of our marriage. I assumed the pattern would continue. However, after weaning my second born, it took over a year for my cycle to return. Even then, it was irregular. Attempts to get pregnant failed repeatedly.
I began to research infertility and found many helpful articles at Natural Fertility. I also conversed with a fertility naturopath and my ob/gyn doctor. My understanding of my body and fertility grew.
Click here to read their story and learn what they both did to get pregnant again…
I purchased Vitex, the Antioxidants [Choice Antioxidants] and the Women's Multivitamin [Fertile Woman One Daily] after trying for six months to get pregnant. Just under two months of using these products, I became pregnant! Not only that but the doctor said that two eggs had been fertilized as she could see two embryonic sacs in my first ultrasound. Unfortunately one of them turned into a blighted ovum but the other is perfectly healthy. I just couldn't believe that I had not one but two fertilized eggs that cycle. I don't think this was a coincidence as no twins run in our families.
PMS savior!
I bought this system [FertiliCare Phase 1 & 2 Program] to attempt to address the fact that I was routinely developing a horrible mood from day 14 of my cycle through to the start of my period. I have been taking these drops in conjunction with royal jelly and ubiquinol to help with general pre-ttc prep. It has been like night and day! I have had two cycles with stable and happy moods. I also noticed some dark blood in the first cycle which leads me to believe these herbs also had a cleansing effect. I actually enjoy the taste too. I'm very happy and will be ordering more!
Roslyn's dreams comes true after she makes dietary and lifestyle changes, and begins naturally supporting her fertility health.
"I truly believe the fertility cleanse and smoothies played a major factor in me becoming pregnant. Even the doctors didn't believe I was pregnant. They assumed the positive test results were from my third miscarriage (which happened 5 weeks prior to me becoming pregnant).
Bailee Scott is our dream come true!"
After 4 long years of trying to conceive, we were finally successful!! I still cannot believe it. We had both male and female factor infertility, but not so bad that it couldn't be fixed after some time. After a loooooong time. I came across the Natural Fertility Shop's videos on YouTube, and they intrigued me. I watched more, and then stumbled upon their website.
I took Hethir Rodriguez's advice about changing the way my husband and I ate, and started eating more organic foods, more veggies, more fruits, and more fertile promoting foods. I also got her Egg Health Kit to try and boost the health of my eggs thinking that could be part of the problem. I started the whole new plan on Sep. 1, 2017, and by Sep. 25, 2017 we got a positive pregnancy test at the doctor! I'm not even joking, I couldn't believe it. I can't say 100% that it was solely all of the supplements, but what I can tell you is I made the change which included the food and the supplements, and now I'm 20 weeks pregnant with a little boy! If anything, this new plan helped. Read the information, take some of the supplements, and see what happens! I will always be grateful to the Natural Fertility Shop, and when it's time for baby #2, I know where I'm coming! Thank you so much, you have created an absolute miracle!
After trying for over 3 years to conceive… It finally worked!!! I used the OvaWise Kit…for helping the egg quality as well as bringing antioxidants and nutrients in the reproductive area. Oh my gosh!!!…along with drinking down almost a pitcher of frozen (3 cups) of fruit and veggies, a ton of kale and or spinach drinks daily, also adding flaxseed, almond butter, and coconut butter. It will give you great health benefits and fertility!!! I also tried to conceive every other day.
THANK YOU LIZ FROM the fertility shop and DR. Lester Packer who created the antioxidant vitamin!!!
Update 6/5/15: Read her entire success story interview here…
My wife and I were trying for about 4 years with 1 failed IUI and 1 failed round of IVF. I was diagnosed with Severe Teratospermia and my wife had low egg count. After IVF I came across this site and started Network Antioxidants and my wife was on Baby and Me Multivitamin after 4 months and constant praying we finally got a positive test result…