Disclaimer: Testimonials appearing on this site are individual experiences, reflecting real life experiences of those who have used our products and/or services in some way or other. However, they are individual results and results do vary. We do not claim that they are typical results that consumers will generally achieve. The testimonials are not necessarily representative of all of those who will use our products and/or services.
I was diagnosed with complex hyperplasia with mild atypia. I refused to take the depo provera prescribed for me as well as rejected the thought of a hysterectomy, I'm only 31 with no children. I also have PCOS. I decided to try the shutdown method using fertilcia's natural progesterone cream as well as Fertilica enzymes, along with diet for a total of 3 months. I had a repeat d&c after 3 months and the results were no complex hyperplasia or atypia! I also confirmed ovulation 3 weeks after stopping the shutdown method, I haven't ovulated on my own in years. I thank God for allowing me to find Natural Fertility Shop, also their herbs are really high quality, I look forward to a bfp very soon!
Angela's IVF Pregnancy Success Story
"My husband (then boyfriend) and I decided a couple of years ago that we wanted to have a baby, so we started trying naturally pretty quickly from when we started dating because of our age. After a couple months of taking temperatures and using the ovulation kit, nothing was happening, so we sought out an infertility doctor who was recommended by a friend who had a successful experience. Over the next year, we attempted 6 IUIs (only one resulted in a chemical pregnancy miscarriage). I took a little break from all the medication and tried acupuncture for a few months. Still nothing. We decided to bite the very expensive bullet and go for IVF, thinking that there is no way it couldn't work! I already had a very easy, successful pregnancy when I was 29. Now that I was almost 42, not so easy anymore…
All I can say is that the help and support from Natural Fertility had to have had SOME part in this success story. Maybe it was a little peace of mind, some empowerment, or maybe it was the herbs and diet. Whatever it may be, I am beyond grateful…"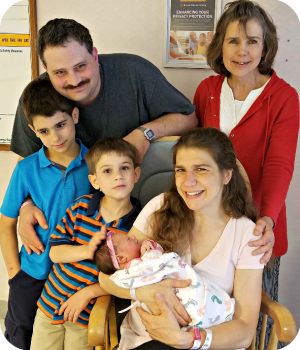 Natalie's Fertility Success Story
After achieving pregnancy with their first two children easily, Natalie & Micheal spent 5 years trying for a third child.
What was your fertility journey prior to finding Natural-Fertility-Info.com and the NaturalFertilityShop.com?:
My husband and I married at ages 40 and 32 respectfully and easily conceived two sons within the first two years of our marriage. I assumed the pattern would continue. However, after weaning my second born, it took over a year for my cycle to return. Even then, it was irregular. Attempts to get pregnant failed repeatedly.
I began to research infertility and found many helpful articles at Natural Fertility. I also conversed with a fertility naturopath and my ob/gyn doctor. My understanding of my body and fertility grew.
Click here to read their story and learn what they both did to get pregnant again…
Katie's story is about the importance of learning your menstrual cycle intimately and then listening to your body!
She shares,
Prior to me seeking help from naturalfertilityinfo.com, I had a four year long journey of heart ache and pain. Each of my friends and family members kept getting pregnant with ease yet my husband and I couldn't seem to get pregnant. To be honest, I knew very little about my cycle, when I ovulated, or anything to do with the delicate process of getting pregnant which is why I sought help from naturalfertilityinfo.com…
We think you'll be inspired after reading her entire pregnancy success story:
Katie Listens to Her Body, Learns Her Cycle Intimately & Conceives
I had had four successful pregnancies in a row. My oldest was 10 and my youngest was 2. When I found out I was expecting again on April 2, 2017, I was overjoyed! I love each one of my babies and count them each as a welcome blessing from the Lord. I scheduled my first prenatal appointment to early May. My kids still did not know I was expecting and I was hoping to surprise them at the appointment!
I talked to the midwife, told her I wasn't as sick as I had been with the previous four (which I attributed to some healthy lifestyle changes), and that I was hoping to have a smoother pregnancy!
She gives me the usual recommendation, brings in the portable scanner, and starts scanning my belly. We see the baby. No heartbeat (at about 8 weeks at that point). She says, "let's go across the hall where they have better ultrasound machines." We did – no results. I felt like my gut had been punched! I remember that day vividly – it was a sad day. My kids found out I was pregnant and within 15 minutes found out the baby was not doing well.
We waited a couple of weeks, got another scan at a different location, and still had the same results. I remember May 12, 2017 as the day my precious baby left my body and I don't think I had ever cried that much in my life before!
Fast forward to August. I find out I am expecting again, but lose the baby within a few days. It was then that I figured something wasn't right with me. I started seeing an OBGYN doctor who was very supportive. She ran some tests (which came back normal) and gave me some recommendations. It was in August that I found Natural Fertility Info. I wanted to know what I could do naturally to help and strengthen my body to conceive again. I did their cleanse, followed their nutritional advice, and my husband and I started trying to conceive again. I got SO MUCH support from them! I don't think most people understand how painful the loss of a child is – no matter how many kids a family already has. Each child is so unique. I am definitely not the kind of person that 'writes strangers' for help and comfort, but I sure wrote Sarah from Natural Fertility quite a bit! She encouraged me in a way that really helped me through those dark weeks.
I am now 33 weeks pregnant with a baby boy due June 29th! Back in August of last year, all I could see and feel was pain and death. But I am thankful that now, almost a year later, I have a different story to tell. I believe the Lord has a plan for each of our lives – even through hard times – and my prayer is that He will use that experience to help me know how to comfort other women that I might come across that are going through the same thing! I hope I am more compassionate toward those that are suffering and that the loss of my children will not be in vain. As thankful as I am for the precious life I now carry, he in no way, shape or form replaces the ones I lost. They were loved, wanted, and are terribly missed. I look forward to meeting them in heaven someday. <3
"I got pregnant for twins via IVF at the age of 49, which is a miracle….I think accepting whatever will happen while doing your best to prepare your body and mind without getting obsessed by the result, helps…"
I've just finished the Fertility Cleanse which I started primarily to help me with my PMS/PMDD and to extend the length of my cycle. Well, what results! No sore boobs, no horrible cramps and days of agony, no hideous mood swings (to the point of being suicidal), no bloating, no acne breakouts, just a few days of minor irritability which I recovered from very quickly. As for my cycle, it's gone from 27 days (shortened after a bout of horrible antipsychotics I was put on) to 29 days. I couldn't be happier!!! I did get lethargic, and I really didn't enjoy the taste of the Conception Tea, but I stuck with it and I am so glad I did. I also switched to a gluten-free diet a couple of months ago, exercised more, cut out as much sugar as possible (I noticed my cravings were significantly reduced too) and generally just feel so much better. Definitely doing this again in six months. Whether it works to help me get pregnant again, who knows? But as my main goal was to improve my own general health, that's definitely had a noticeable, positive impact. Thank you <3
Through PCOS, unsuccessful treatment with Clomid and an ectopic pregnancy, Diana perseveres with faith, naturally supports her body and achieves success.
She shares, "I try for 8 years unsuccessful, I have polycystic ovary. I got treatment with clomid. I got ectopic pregnancy, after that I found natural fertility in YouTube. I hear all advices from Heather Rodriguez!! Was difficult for me because my main language is Spanish, so have to hear many time to understand!! After exactly 6 month, I got the beautiful surprise, I was finally natural pregnant!!" Read her full story of success here…
I did the natural Fertility Cleanse in September, then followed the recommended fertility diet, supplements, fertility massage with Radiant Womb oil, castor oil packs, exercise and acupuncture, and other tips Heather recommends on her YouTube channel. I did a round of IVF in November and am happy to announce that I'm 12 weeks pregnant today!!! Thank you so much for all your fertility advice and guidance along my journey!
In May 2017 C.T. shared, "I've only been using this product [UteriCalm] for less than 3 weeks, but I just found out today that I'm pregnant! I have been trying for 20 months. I can't say for sure that this product made all the difference, but it couldn't have hurt. 3 months prior I did the 21 Day Fertility Diet Challenge (I still drink fertility smoothies often), 2 months ago I started the Fertility Cleanse and I think that really helped reset my hormones. All in all, without this website and its products, I'd probably still be trying to conceive. I wish I tried everything sooner!"
And an Update from C.T.!
My husband and I TTC for almost 2 years. It was a long, emotional, and tough period to get thru. I was definitely losing hope.
After still not getting pregnant within six months, I tried a lot of products (too many supplements, teas, foods) to get pregnant.
Since I was over 35, I had doctors do blood work and had my fallopian tubes checked after 3 months of trying. A lot of my results came back non-conclusive.
I also thought my menstrual cycle never got back to "normal" after stopping use of non-hormonal birth control… which didn't make sense.
After 1 year of TTC, we tried IUIs twice. Then we decided it wasn't the best path for us and didn't proceed with the recommended 3rd IUI.
The months preceding my pregnancy…I did a few different things. However, I think what had the biggest affect was doing the 21 day Fertility Diet Challenge and the Fertility Cleanse (purchased on this website).
After the cleanse my period returned to normal and I was pregnant the following month!!
We welcomed our baby girl in January.