Disclaimer: Testimonials appearing on this site are individual experiences, reflecting real life experiences of those who have used our products and/or services in some way or other. However, they are individual results and results do vary. We do not claim that they are typical results that consumers will generally achieve. The testimonials are not necessarily representative of all of those who will use our products and/or services.
Thank you!
Hi, my name is Nayyareen. I'm 30 and lives in Toronto, Canada. I started watching your videos in March 2018 and by the end of the month I was convinced by these herbal products.
Actually I had 2 miscarriages since 2016. After getting all my tests done i found out that i had Hormonal imbalance and maybe PCOS, but not a severe one. I was prescribed metmorphin which I never took because I was always against these medicines, I always wanted things to be fixed naturally, by diet, exercise or herbs.
After listening to your numerous videos I learnt alot and decided to take maca. I found one over the counter and started using on 1st April 2018. By mid May it was Ramadan so i stopped taking it as felt hard on stomach when you are fasting. By mid June Ramadan was over and I planned to continue maca. But I missed my period, at that time. I thought it was a stressful week at school, which might be the reason. But fortunately I did my pregnancy test and found myself PREGNANT !
I'm so glad and happy this herb worked for me and in such short time. Thanks alot!
You guys are doing an amazing job!
I have shared the link to your videos and your website to my sister who lives in US and she has PCOS for so long. Even after taking so many medicines like clomid, femara, her problems have been cured only temporarily. She is hoping to look up to you guys and herbal treatment. Hopefully it works for her too.
Keep up the good work !
Kind Regards,
Nayyareen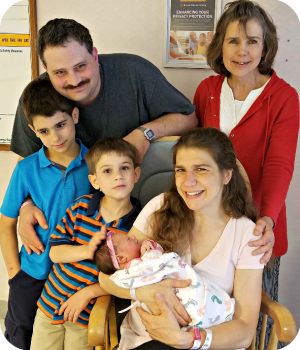 Natalie's Fertility Success Story
After achieving pregnancy with their first two children easily, Natalie & Micheal spent 5 years trying for a third child.
What was your fertility journey prior to finding Natural-Fertility-Info.com and the NaturalFertilityShop.com?:
My husband and I married at ages 40 and 32 respectfully and easily conceived two sons within the first two years of our marriage. I assumed the pattern would continue. However, after weaning my second born, it took over a year for my cycle to return. Even then, it was irregular. Attempts to get pregnant failed repeatedly.
I began to research infertility and found many helpful articles at Natural Fertility. I also conversed with a fertility naturopath and my ob/gyn doctor. My understanding of my body and fertility grew.
Click here to read their story and learn what they both did to get pregnant again…
Katie's story is about the importance of learning your menstrual cycle intimately and then listening to your body!
She shares,
Prior to me seeking help from naturalfertilityinfo.com, I had a four year long journey of heart ache and pain. Each of my friends and family members kept getting pregnant with ease yet my husband and I couldn't seem to get pregnant. To be honest, I knew very little about my cycle, when I ovulated, or anything to do with the delicate process of getting pregnant which is why I sought help from naturalfertilityinfo.com…
We think you'll be inspired after reading her entire pregnancy success story:
Katie Listens to Her Body, Learns Her Cycle Intimately & Conceives
I purchased Vitex, the Antioxidants [Choice Antioxidants] and the Women's Multivitamin [Fertile Woman One Daily] after trying for six months to get pregnant. Just under two months of using these products, I became pregnant! Not only that but the doctor said that two eggs had been fertilized as she could see two embryonic sacs in my first ultrasound. Unfortunately one of them turned into a blighted ovum but the other is perfectly healthy. I just couldn't believe that I had not one but two fertilized eggs that cycle. I don't think this was a coincidence as no twins run in our families.
"I have been on and off various forms of birth control for over a decade… Form personally after my journey, I believe that birth control reeks havoc on the female body and should be avoided at all costs."
Talia, 26 years old
---
We think you will want to read how Talia supported her body naturally after stopping birth control! If so, Talia's story is here…
Through PCOS, unsuccessful treatment with Clomid and an ectopic pregnancy, Diana perseveres with faith, naturally supports her body and achieves success.
She shares, "I try for 8 years unsuccessful, I have polycystic ovary. I got treatment with clomid. I got ectopic pregnancy, after that I found natural fertility in YouTube. I hear all advices from Heather Rodriguez!! Was difficult for me because my main language is Spanish, so have to hear many time to understand!! After exactly 6 month, I got the beautiful surprise, I was finally natural pregnant!!" Read her full story of success here…
My husband and I have been together for 15 years, but only recently got married, that's when we really started trying and noticing we weren't getting pregnant after so long. We went to a fertility clinic and found out I had a polyp/fibroid with a mild case of PCOS and he had low sperm count.
They told us the only way we could get pregnant was by invitro fertilization using donor sperm. I had a surgery to remove the polyp, but still nothing. One year after the surgery we started to do some serious research, we made drastic lifestyle changes and I came across your website.
We started to look at unconventional medicine, herbs, fertilty superfoods, healthy eating. My husband also went to a urologist to find out the cause of his low sperm count, but they had no explanation but they prescribe some Clomid for him.
Within one month of these changes and while doing your Fertility Cleanse, we got pregnant. We were shocked because this was the first time we weren't tracking my ovulation days and didn't even know. I just thought my periods was late as usual. I know it's not recommended to have sex during the cleanse, but I feel that was a part to play in us getting pregnant. Anybody who has been trying for years should try it. There is no harm in trying for something that you really want 🙂
---
A couple can have intercourse while completing Fertility Cleanses, we do however suggest against having intercourse with the intent to conceive. If interested in why, you can visit our Knowledge Base/FAQs at the Natural Fertility Shop, or contact our Customer Care Team here…
My husband and I had a two-year-old (no fertility or pregnancy issues) and decided to start trying again. We tried for six months with no luck. We started seeing a specialist and they could not find a thing wrong with us. We did figure out that I was ovulating between day 18-20 and had a short luteal phase.


Within the next six months, we had three pregnancies and three losses 🙁 We were heartbroken and devastated.

I started reading the natural-fertility-info.com website and went on the suggested Fertility Diet. I made a daily fertility smoothie and began fertility yoga and visualization. I read many articles about suggested seeds, herbs, things to avoid, and simple lifestyle changes. The next month, I had a healthy pregnancy! I had a very positive experience with this website. I definitely recommend it to anyone looking to get pregnant and stay pregnant. 
Thank you!
Very helpful indeed!
It [Fertility Consultation with Sarah Abernathy] felt very personal, any questions I asked were answered to the best of my herbalist's capability (some were medical questions). I ordered the kit that was suggested and started taking my smoothies again, signed up for the 10 day Fertility Smoothie Challenge, can't wait to try them.