Disclaimer: Testimonials appearing on this site are individual experiences, reflecting real life experiences of those who have used our products and/or services in some way or other. However, they are individual results and results do vary. We do not claim that they are typical results that consumers will generally achieve. The testimonials are not necessarily representative of all of those who will use our products and/or services.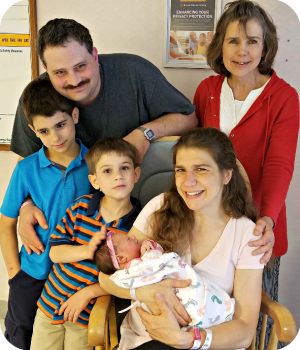 Natalie's Fertility Success Story
After achieving pregnancy with their first two children easily, Natalie & Micheal spent 5 years trying for a third child.
What was your fertility journey prior to finding Natural-Fertility-Info.com and the NaturalFertilityShop.com?:
My husband and I married at ages 40 and 32 respectfully and easily conceived two sons within the first two years of our marriage. I assumed the pattern would continue. However, after weaning my second born, it took over a year for my cycle to return. Even then, it was irregular. Attempts to get pregnant failed repeatedly.
I began to research infertility and found many helpful articles at Natural Fertility. I also conversed with a fertility naturopath and my ob/gyn doctor. My understanding of my body and fertility grew.
Click here to read their story and learn what they both did to get pregnant again…
My husband and I had been trying to get pregnant for 8 years. We decided early on that since we couldn't guarantee whether or not we would get pregnant, we wanted to make sure that we were at least both healthier at the end than at the beginning, so that we would still be gaining something. About a year ago, I was finally diagnosed with stage 3 Endometriosis, which I had long suspected was a problem, and at least one of my tubes was completely blocked. We persisted in being healthy even with this discouraging news. We both did the fertility cleanses and took fertility and over-all health supplements. In November, I got my first positive pregnancy test ever, and now we are 6 months pregnant eagerly awaiting our baby's arrival!
I started the Fertility Cleanse in February and my husband did the male version of the cleanse. I was recently diagnosed with slight PCOS and was told by my OB that based on my test results, I would probably not be able to get pregnant naturally (I also get my period every 45 days, which he said would add to the difficulty). I really didn't want to have to turn to fertility drugs so I decided I would try a natural solution instead. I started taking Maca and Vitex berry along with doing the fertility cleanse. Well, my OB was wrong! I got pregnant the month after the cleanse. Would recommend to anyone!
Pregnant one month after cleanse…
I have had a very difficult journey trying to get pregnant with my second child. After two miscarriages in a row and second laparoscopic surgery for endometriosis, I decided it was time to go see my acupuncturist. She started me on Castor Oil packs and referred me to this website to start the FertiliGreens. I started doing my own research on here and decided to do the cleanse [Fertility Cleanse Kit], my fiancé also did the male cleanse [Male Fertility Cleanse Kit] as support! Well… after 2 months of Castor Oil packs and cleansing, in February 2018 …I am pregnant!!! Got pregnant my first cycle off the cleanse in March! This kit works!! And the faith and power of prayer!! Thank you so much.
"I found this website and it was a Godsend for sure. The information I got here was better than anything I had found before and the success stories sparked a fire in my heart that had died. God had created me perfectly and I wasn't broken like I thought. God created nature and I knew getting pregnant would happen to me if I took care of his creation within us. And sure enough, 3 months later we got pregnant!!"
Learn how Jennifer's faith leads and the success stories of others led her through heartache to pregnancy success…
My husband and I did the fertility cleanses [Fertility Cleanse and Male Fertility Cleanse] and got pregnant without trying the same cycle. I never even got to finish the cleanse. That's after 2 ½ years and 1 miscarriage!
"When I turned 22, I finally accepted the fact that conceiving wasn't going to come easy for us. My menstrual cycles were becoming sporadic as I got older. Every doctor I saw told me the same thing that my hormones would balance out as I got older. Prior to finding this site, I would get a period once every three months. We decided to make an appointment with a reproductive endocrinologist to see what was going on. I was diagnosed with PCOS, one blocked fallopian tube, uterine polyps, 2 mutations of MTHFR, and a tilted uterus… Once I had my IVF miracle, my husband and I decided to try to get pregnant naturally before going back into treatment."
My wife forced me into a fertility specialist office to be tested. Although they did not provide me with my results, they told her about my morphology problems. So I came across Natural Fertility website and ordered their cleansing products. I read that heavy metals (from flu shots and my numerous shots I received during my Afghanistan visit) cause infertility, or at least change the shape of sperm. After just two weeks of cleansing with their amazing products, she was pregnant. Of course we found out 5 weeks later, but we knew when it happened and it was exactly two weeks after cleansing with their products.
Stephanie's two and a half year struggle to conceive led her to natural therapies that supported her body, and helped her start and grow her family.
Stephanie shares, "We were just about to try medical intervention when I came across your site! I cleaned up my diet and started using Maca and Vitex to regulate my hormones!…" Click here to learn where Stephanie's journey goes from here…
A month after taking the cleanse and my husband doing the male one we are pregnant! It's a true miracle since we conceived our son via IVF.