Disclaimer: Testimonials appearing on this site are individual experiences, reflecting real life experiences of those who have used our products and/or services in some way or other. However, they are individual results and results do vary. We do not claim that they are typical results that consumers will generally achieve. The testimonials are not necessarily representative of all of those who will use our products and/or services.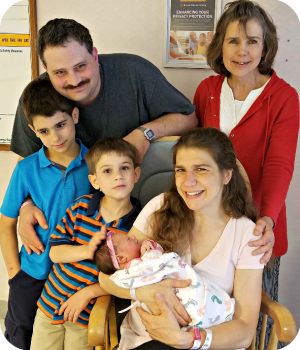 Natalie's Fertility Success Story
After achieving pregnancy with their first two children easily, Natalie & Micheal spent 5 years trying for a third child.
What was your fertility journey prior to finding Natural-Fertility-Info.com and the NaturalFertilityShop.com?:
My husband and I married at ages 40 and 32 respectfully and easily conceived two sons within the first two years of our marriage. I assumed the pattern would continue. However, after weaning my second born, it took over a year for my cycle to return. Even then, it was irregular. Attempts to get pregnant failed repeatedly.
I began to research infertility and found many helpful articles at Natural Fertility. I also conversed with a fertility naturopath and my ob/gyn doctor. My understanding of my body and fertility grew.
Click here to read their story and learn what they both did to get pregnant again…
Elizabeth Willett is the Senior Herbalist and Lead Educator at NaturalFertilityInfo.com. She holds a BS in Mass Communications (2000) from Minnesota State University, and a Master of Arts degree (MA, 2010) in Holistic Health Studies with a specialization is herbalism from St. Catherine University in St. Paul, MN. Liz has written over 200 articles on women's fertility and brings a vast wealth of knowledge and expertise in holistic health and healing to Natural Fertility Info.com