Disclaimer: Testimonials appearing on this site are individual experiences, reflecting real life experiences of those who have used our products and/or services in some way or other. However, they are individual results and results do vary. We do not claim that they are typical results that consumers will generally achieve. The testimonials are not necessarily representative of all of those who will use our products and/or services.
Angela's IVF Pregnancy Success Story
"My husband (then boyfriend) and I decided a couple of years ago that we wanted to have a baby, so we started trying naturally pretty quickly from when we started dating because of our age. After a couple months of taking temperatures and using the ovulation kit, nothing was happening, so we sought out an infertility doctor who was recommended by a friend who had a successful experience. Over the next year, we attempted 6 IUIs (only one resulted in a chemical pregnancy miscarriage). I took a little break from all the medication and tried acupuncture for a few months. Still nothing. We decided to bite the very expensive bullet and go for IVF, thinking that there is no way it couldn't work! I already had a very easy, successful pregnancy when I was 29. Now that I was almost 42, not so easy anymore…
All I can say is that the help and support from Natural Fertility had to have had SOME part in this success story. Maybe it was a little peace of mind, some empowerment, or maybe it was the herbs and diet. Whatever it may be, I am beyond grateful…"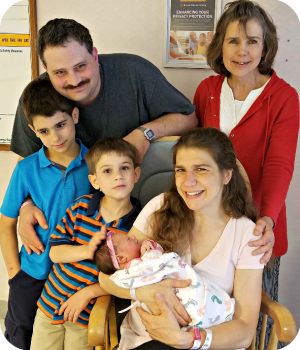 Natalie's Fertility Success Story
After achieving pregnancy with their first two children easily, Natalie & Micheal spent 5 years trying for a third child.
What was your fertility journey prior to finding Natural-Fertility-Info.com and the NaturalFertilityShop.com?:
My husband and I married at ages 40 and 32 respectfully and easily conceived two sons within the first two years of our marriage. I assumed the pattern would continue. However, after weaning my second born, it took over a year for my cycle to return. Even then, it was irregular. Attempts to get pregnant failed repeatedly.
I began to research infertility and found many helpful articles at Natural Fertility. I also conversed with a fertility naturopath and my ob/gyn doctor. My understanding of my body and fertility grew.
Click here to read their story and learn what they both did to get pregnant again…
"I got pregnant for twins via IVF at the age of 49, which is a miracle….I think accepting whatever will happen while doing your best to prepare your body and mind without getting obsessed by the result, helps…"
I was introduced to this website by a friend who eventually became pregnant via IVF. Despite this, she raved about the products and suggested I try. I purchased the Fertility Cleanse, OvaWise Kit, UterineWise Lit and the Male Fertility Kit. I was committed. I was diagnosed with unexplained infertility. After one month, I am shocked, surprised, elated and blessed to say I am 8 weeks pregnant!!!!! (After 5 pregnancy tests and a blood test – I JUST COULDN'T BELIEVE IT!) It is clear my body just needed a kick start. I now use the Pregnancy Wellness Kit and I am thankful for being introduced to these products. Stay committed and good luck on your pregnancy journey. xoxo
In March of 2017 Kimberly sent us this kind message,
"I found you on YouTube and products on Pinterest and I watched your videos and followed advice and directives on products to purchase with you. I did 2 cycles of IUI and I'm 11 weeks pregnant today. I wish I could have the opportunity to speak to you and thank you. You have no idea how much it means to me. What you're doing is so important and so special. Thank you for caring about us! The Ladies! You restored hope and determination. God Bless you and those on your team."
Just this week (Feb. 2018) she shared,
"I just wanted to say Thank You again for all that you do. Hethir is amazing and I have referred to her in every situation where people have been doing InVitro etc. and not getting pregnant, to relatively young women too 33 yrs etc. In any case I am 40 and I just had my baby in September 28th. Excellent product and YouTube Blog! God Bless! Here is my wonderful baby girl."
Roslyn's dreams comes true after she makes dietary and lifestyle changes, and begins naturally supporting her fertility health.
"I truly believe the fertility cleanse and smoothies played a major factor in me becoming pregnant. Even the doctors didn't believe I was pregnant. They assumed the positive test results were from my third miscarriage (which happened 5 weeks prior to me becoming pregnant).
Bailee Scott is our dream come true!"
I have bèen following your fertility newsletter and the diet [Fertility Diet], it really helped me a lot because I have been having fertility issues for so long. I am 43 years old and now I am 5 weeks pregnant. Thanks for this wonderful platform.
"At the age of 40, my life began… again. I married my childhood crush (whom I knew since the day I was born!) and although we both had children from previous marriages… we decided "wouldn't it be neat if we had a lovechild together? …After months of trying, we consulted with my OBGYN and both my husband and I had a series of blood work, which all came back normal. Then, I did a round of ovulation treatment. In Dec of 2015, I had an HSG which showed a bilateral tubal blockage."
At the age of 41, Chavonne gave birth to her daughter naturally. She shares her story here…
I just completed my second round of IUI today. The first time I had not explored products. My ultrasound yielded one 18 follicle on right and one 11 on left and estrogen was 250. Procedure was unsuccessful. Order this kit [OvaWise Egg Health Kit], and second IUI labs yielded 2, 17 follicles on right and one 11 on left and estrogen was 592. Additionally, my doctor reported that mucus lining was "great" when he preformed procedure. Nothing was different about me, my lifestyle and 1st IUI was in March, second today in June. There is no question that this product works. Even if I don't get pregnant, at 44, these products made me 34 again!!! Thank you for all you for bringing these products to us!!!
Rejuvaflow WORKS! April 2017
Ladies do not be discouraged. I had no cycle for over a year and in my late forty's. I needed 2 bottles of Rejuvaflow to restart my cycle. It's a slow start for me. But my advice is to keep taking Rejuvaflow, as directed, until you get results. Now, I will work with the other products to keep a healthy cycle.