Disclaimer: Testimonials appearing on this site are individual experiences, reflecting real life experiences of those who have used our products and/or services in some way or other. However, they are individual results and results do vary. We do not claim that they are typical results that consumers will generally achieve. The testimonials are not necessarily representative of all of those who will use our products and/or services.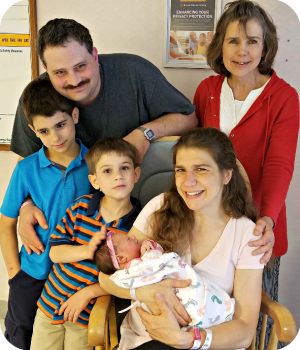 Natalie's Fertility Success Story
After achieving pregnancy with their first two children easily, Natalie & Micheal spent 5 years trying for a third child.
What was your fertility journey prior to finding Natural-Fertility-Info.com and the NaturalFertilityShop.com?:
My husband and I married at ages 40 and 32 respectfully and easily conceived two sons within the first two years of our marriage. I assumed the pattern would continue. However, after weaning my second born, it took over a year for my cycle to return. Even then, it was irregular. Attempts to get pregnant failed repeatedly.
I began to research infertility and found many helpful articles at Natural Fertility. I also conversed with a fertility naturopath and my ob/gyn doctor. My understanding of my body and fertility grew.
Click here to read their story and learn what they both did to get pregnant again…
RecoverWell Helped me so much through a very difficult time…
I loved this product [Recovery Wellness Kit]! Radiant Womb oil was amazing, and the herbal extract was a daily necessity for me as I was going through this recovery. I'm a bit new to flower essences but the Star of Bethlehem truly carried me through the most difficult times.
Thank you so much for offering this support package to help in such difficult times. Oh and by the way, I had my first period exactly 28 days from the day of my miscarriage! Amazing if you ask me.
The kit [Recovery Wellness Kit] helped me get back to my regular cycle pretty fast. I got my period exactly 3 weeks from the start of the medically induced missed miscarriage at 10 weeks. I especially loved the massage oil and the tea. It made me feel much better physically, helped with the cramps and the bloated feeling that lingered even after the bleeding stopped. I'm going to keep using it until ovulation.
Excerpt from How Irene Recovered After Several Miscarriages: I married the love of my life and 4 months later we were pregnant. Everything went great with the exception of low progesterone detected early on in my pregnancy. My doctor immediately put me on progesterone until my 12th week of pregnancy. I delivered a healthy baby girl via c-section. When she turned one I was 10 weeks pregnant and couldn't wait to share with our family. Unfortunately this would be 1 of 3 miscarriages to come. I would let my body recuperate from the miscarriage and we would try to get pregnant again. After our 2nd miscarriage and time ticking I ran into your website on Facebook. I went to your website and was amazed at all the helpful articles on there. I spent many hours reading and getting to know your products…Have faith, get to know the website and products well. It's so worth it! Invest in yourself.
Hello,
Your product helped me with my mood swings, getting better faster after the miscarriage its weird to explain. This product taste horrible but it works wonders… Thank you for coming out with this product RecoverWell.