Disclaimer: Testimonials appearing on this site are individual experiences, reflecting real life experiences of those who have used our products and/or services in some way or other. However, they are individual results and results do vary. We do not claim that they are typical results that consumers will generally achieve. The testimonials are not necessarily representative of all of those who will use our products and/or services.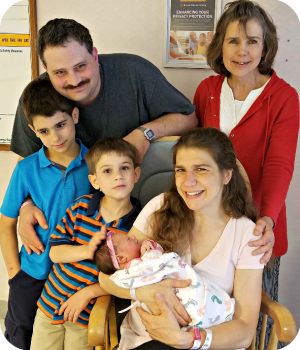 Natalie's Fertility Success Story
After achieving pregnancy with their first two children easily, Natalie & Micheal spent 5 years trying for a third child.
What was your fertility journey prior to finding Natural-Fertility-Info.com and the NaturalFertilityShop.com?:
My husband and I married at ages 40 and 32 respectfully and easily conceived two sons within the first two years of our marriage. I assumed the pattern would continue. However, after weaning my second born, it took over a year for my cycle to return. Even then, it was irregular. Attempts to get pregnant failed repeatedly.
I began to research infertility and found many helpful articles at Natural Fertility. I also conversed with a fertility naturopath and my ob/gyn doctor. My understanding of my body and fertility grew.
Click here to read their story and learn what they both did to get pregnant again…
I purchased Vitex, the Antioxidants [Choice Antioxidants] and the Women's Multivitamin [Fertile Woman One Daily] after trying for six months to get pregnant. Just under two months of using these products, I became pregnant! Not only that but the doctor said that two eggs had been fertilized as she could see two embryonic sacs in my first ultrasound. Unfortunately one of them turned into a blighted ovum but the other is perfectly healthy. I just couldn't believe that I had not one but two fertilized eggs that cycle. I don't think this was a coincidence as no twins run in our families.
My husband and I have been trying to conceive for over a year now. I had the mirena for 12 years and never had a cycle, which I believe has definitely effected my fertility. After Clomid, multiple IUIs, starting the IVF process and having egg retrieval (which yielded 7 non viable eggs) – I just wanted to reset my body and achieve hormonal balance again. I'm 38 yo, am an avid runner, am 98% organic (food and products), and am one of those unexplained infertility cases. After taking all the hormones to start the IVF process, I was tired all the time and was gaining weight while maintaining the same eating and exercise habits as I always have. This cleanse [Fertility Cleanse] was easy to do and I really feel like it helped flush out the extra hormones and help my body achieve the balance I needed. The supplements are easy to take without causing stomach upset and the tea didn't taste bad at all. I did notice I was a bit cranky and I definitely broke out like crazy for two weeks but totally worth it and I believe this is just your body's way of ridding itself of toxins. I also did epsom salt baths, which is supposed to assist with ridding toxins. I actually lost 8 lbs and I have more energy. My periods were on a 24 day cycle and this past month it came at day 30 and lasted longer than 3 days, which hasn't happened in 2 years. I've also started taking vitex, maca, royal jelly, CoQ10, and L-Arginine with my normal nutritional supplements. I am two weeks post cleanse and today I took an ovulation test, which shows I'm at peak levels to conceive. Crossing fingers! Regardless of your situation, I think this cleanse was great for an overall reset and is beneficial to your overall health. I would highly recommend it."
This is the first month of taking Vitex, and I have already had my acne clear up, my FIRST EVER positive ovulation test, and a regular period! My doctor had diagnosed me with PCOS and low progesterone (On day 21 of my last cycle my progesterone was a 3.4 which is VERY low). I will find out later this month how much my progesterone has increased. But I am very hopeful since this is my first ever positive ovulation test, and we have been TTC for five years! I love this product. About to purchase again. I highly recommend if you have hormonal imbalances.
I started the Fertility Cleanse in February and my husband did the male version of the cleanse. I was recently diagnosed with slight PCOS and was told by my OB that based on my test results, I would probably not be able to get pregnant naturally (I also get my period every 45 days, which he said would add to the difficulty). I really didn't want to have to turn to fertility drugs so I decided I would try a natural solution instead. I started taking Maca and Vitex berry along with doing the fertility cleanse. Well, my OB was wrong! I got pregnant the month after the cleanse. Would recommend to anyone!
The power of herbs!
I live in London, UK, and I learnt about RejuvaFlow from www.naturalfertilityshop.com. I also watched several videos on their Natural Fertility Info YouTube channel that covered a range of information on natural supplements for improving egg health, to ways to balance hormones – which I recognized that I clearly had an hormone imbalance hence my absent period for two months going on three. I also emailed Natural Fertility info and received a helpful and polite response to my inquiry. I ordered a bottle of RejuvaFlow and also decided that I would start taking the following herbal supplements in conjunction with RejuvaFlow which I believe also helped my period to return naturally: Women's Fertility Aid, Vitex Angus Castus (Vitex) 1000mg, Maca 3000, DIM plus, Evening Primrose 1000mg, Tribulus, Black Cohosh and Dong Quai. There was times that I felt nothing was going to happen, but I had to remain positive and continue taking Rejavaflow and the supplements (After all, I had brought all those supplements, so I was not going to waste my money! Lol!..) After taking RejuvaFlow and the other supplements for 20 days, I had my period!… My investment in myself paid off! Moving forward, I have continued to take the supplements (minus RejvaFlow and Dong Quai). I also do Yoni (vagina) steams at home for my vaginal reproductive health. So, I can honestly say that my experience of talking RejavaFlow alongside additional natural supplements was positive.
After three miscarriages and years of trying to get pregnant, my husband and I are pregnant after my first cycle using Vitex. Incredible!
"I have been on and off various forms of birth control for over a decade… Form personally after my journey, I believe that birth control reeks havoc on the female body and should be avoided at all costs."
Talia, 26 years old
---
We think you will want to read how Talia supported her body naturally after stopping birth control! If so, Talia's story is here…
Through PCOS, unsuccessful treatment with Clomid and an ectopic pregnancy, Diana perseveres with faith, naturally supports her body and achieves success.
She shares, "I try for 8 years unsuccessful, I have polycystic ovary. I got treatment with clomid. I got ectopic pregnancy, after that I found natural fertility in YouTube. I hear all advices from Heather Rodriguez!! Was difficult for me because my main language is Spanish, so have to hear many time to understand!! After exactly 6 month, I got the beautiful surprise, I was finally natural pregnant!!" Read her full story of success here…
After taking the Fertility Cleanse, I had one of the "best" periods I've had in some time. It was light and had low to moderate pain. For us endometriosis girls, this is amazing. I just feel cleaner and felt like it accomplished something. Now I plan to follow up with a fertility diet, daily fertility massage, and herb it up with Maca and Vitex.