What is Adenomyosis?
Adenomyosis is a rare condition in which the cells of the endometrium grow into the muscular walls of the uterus. Women may not have any outward symptoms this has happened to them, but it may become very painful. In most cases, adenomyosis is harmless and painless but, in some cases, it can cause painful, heavy or prolonged menstruation, and lead to difficulties in getting pregnant or sustaining a pregnancy.
The National Health Service (NHS) in the UK estimates that around 1 in 10 women have adenomyosis and that it is most common in women aged 40 to 50 who have had children. Despite little being known about this condition, there are natural healing options.
First, know your uterus…
In order to understand this condition better, it is important to know your uterus. The uterus is intended to be the home of your developing baby. It is one of the most amazing organs in the female body. It is about 7cm long, 5cm wide at the top and 2.5cm at the bottom. The uterus is made up of 3 layers. The perimetrium is the outermost layer of the uterus; in comparison to the other layers it is relatively thin. The myometrium is the middle layer. Within this myometrium are three layers of smooth muscle arranged in spiral, circular and longitudinal muscle patterns. The endometrium is the inner mucosal lining. It has two layers. The stratum functionale contains the excretory glands and is shed as menses during menstruation. It is then built-up again by stimulation of the ovaries releasing hormones. The deeper layer that resides next to the myometrium is vascular (vessels that carry fluids) and serves to regenerate the stratum functionale after each menstruation ends.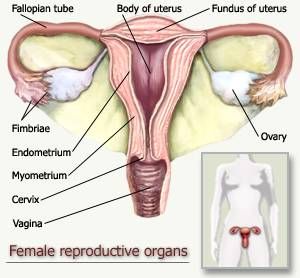 What Causes Adenomyosis?
No one knows for sure what causes adenomyosis. Adenomyosis usually disappears after menopause. This may be because the uterus no longer produces the endometrium for a monthly menstrual cycle.
Adenomyosis shows up as large or small masses of endometrial cells (also known as implants) in the myometrium. Doctors have yet to understand why this happens, but there are several risk factors and theories as to why this may happen.
Adenomyosis is not endometriosis, but many women who have endometriosis may also have adenomyosis. Adenomyosis is similar to endometriosis in that when the displaced endometrial cells swell with blood as ovulation approaches in preparation for implantation, and then break down if pregnancy does not occur, the implants bleed and the blood becomes trapped inside of the body. With Adenomyosis this will happen in the muscular layers of the uterus where the implants are present.
Who is at Risk for Developing Adenomyosis?
Women in their childbearing years are more likely to develop adenomyosis.
Women over 30 years of age.
Women who have had previous cesarean section or other uterine surgery.
Theories as to What May Cause Adenomyosis
Invasive Foreign Tissue Growth
In the case of uterine surgery, it is thought that the incisions made during surgery promote direct invasion of the endometrial cells into muscular layers of the uterus (myometrium).
Uterine Inflammation from Childbirth
This theory suggests that postpartum uterine inflammation may cause a break in the boundary between the endometrium and the myometrium. This would allow for the endometrial cells to invade the myometrium.
Abnormal Uterine Development
Another theory suggests that when the uterus is developing in the female embryo, somehow the formation of the cells of the endometrium become deposited in the muscles of the uterus.
Symptoms of Adenomyosis
Note: Many women experience no symptoms even though they have adenomyosis.
Painful menstrual cycles known as dysmenorrhea, usually pain may increase over time.
Painful sexual intercourse
Heavy, clotty or long-term menstrual bleeding
Mid-cycle bleeding
A feeling of a mass in the uterus, or the feeling of an enlarged uterus
In the case of adenomyosis, the uterus may double or triple in size.
Diagnosis
If you experience any of the above symptoms, it may be a good idea to make an appointment to see your doctor. A doctor can palpate your uterus to determine if there are any large masses or enlargement of the uterus. If adenomyosis is suspected, your doctor may request an ultrasound to determine if the masses are adenomyosis, uterine fibroids, or tumors.
Medical Treatment of Adenomyosis
Research exists on the benefits of the Levonorgestrel (LNg) IUD, Uterine Artery Embolisation (UAE) and high intensity focused ultrasound (HIFU) ablation therapy for curbing the symptoms of ademomyosis, without proving that these procedures promote or preserve fertility. Magnetic resonance imaging-guided focused ultrasound (MRgFUS) "may be a promising alternative to hysterectomy for the patient with adenomyosis who wishes to preserve her uterus. A number of reports of successful treatment have been published that also show the feasibility of pregnancy following MRgFUS (Fertility and Sterility)", according the Pelvic Pain Support Network.
With medical options avaiable, it is widely stated that it's important to seek an experienced practitioner who has a high success rate, and even more importantly to understand how the procedure could impact your fertility and chances of conception moving forward if it is your wish our conceive.
Natural Treatment Options for Adenomyosis
Because researchers are unable to determine the cause of adenomyosis, there is no known way to prevent it or completely get rid of it. If the pain becomes severe or bleeding very heavy or long-term, doctors may suggest hysterectomy. There are natural ways to manage pain, reduce heavy menstrual bleeding, reduce foreign tissue growth and improve uterine health to aid in healing of adenomyosis.
Support A Healthy Uterus
Self Fertility Massage™
Self Fertility Massage™ may be one of the easiest and most cost-effective ways you can improve your uterine health, which is essential if you have adenomyosis. This massage can be done from the comfort and privacy of your own home. Self Fertility Massage™, created by Certified Massage Therapist Hethir Rodriguez, Founder and President of Natural Fertility Info.com, is a series of massage techniques that are used to help support reproductive health, the menstrual cycle, and your fertility.
This type of massage may help to support healing from adenomyosis, reducing pain and inflammation. It also aids in removal of old blood. Self Fertility Massage™ may also help to sustain the health of the muscles of the uterus, which are greatly impacted by the adenomyomas growing in the myometrium.
Ways Self Fertility Massage™ Improves Uterine Health:
Castor Oil Packs
A Castor Oil Pack is a cloth soaked in castor oil which is placed on the skin to enhance circulation and promote healing of the tissues and organs underneath the skin. Castor Oil stimulates regular detoxification of old blood. Castor oil helps to reduce inflammation and pain, while working with the body's natural detoxification systems to eat away foreign tissue growth, scar tissues and adhesion formation. This therapy is complementary to Self Fertility Massage™.
Systemic Enzyme Therapy
This type of therapy works to eat away foreign tissue growth which may help to eat away adenomyomas, while reducing the pain and inflammation caused by adenomyosis. Systemic enzyme therapy uses systemic enzymes that work to reduce pain, inflammation, and prevent scar tissue damage.
Key benefits:
The systemic enzyme blend works as a biological response modifier; working with the body's own immune defense system to moderate inflammatory response.
They support cleansing of the tissues, promote better circulation.
They break down and remove "fibrin", the make-up of prolonged inflammation and scar tissue/adhesion formation.
They break down the proteins in the blood that cause inflammation; this facilitates their removal via the lymphatic and circulatory system.
Reduction in inflammation, increase in proper blood formation, increase in proper circulation hinders scar tissue and adhesion formation, while reducing pain.
Reduce Heavy, Long-term, Clotty Menstrual Bleeding
Slow Flow
For women who experience heavy menstrual bleeding, large blood clotting or long-term menstrual bleeding, the herbal blend Slow Flow may be a good option. This blend combines astringent herbs, uterine tonics and nutrients to support normal menstrual flow. It combines these herbs: Ginger root, Cranesbill root, Periwinkle herb, Yarrow flower, Liferoot herb, Shepherd's purse herb.
Slow Flow should only be used to manage heavy bleeding; therefore, it should only be taken on heavy bleeding days.
Manage Pain from Adenomyosis Naturally
Women's Best Friend™
This herbal blend combines powerful herbs that work to reduce heavy menstrual bleeding, curb pain, tone the uterus, reduce abdominal congestion, regulate the menstrual cycle, fight infection, stimulate liver activity for improved estrogen metabolism, and work to balance progesterone. This blend includes seaweed, for thyroid support. Women's Best Friend™ also contains Protease, an enzyme that works to dissolve excess foreign tissues, like those that make up adenomyosis, uterine fibroids, endometriosis, scar tissue and adhesion. This herbal blend reduces pain and swelling right away, so you begin to feel better right away.
Anti-Adenomyosis Tincture
The following recipe comes from Herbalist Susun S. Weed's protocol for managing adenomyosis.
1 oz. Licorice rt. (Glycyrrhiza glabra)
1 oz. Partridge berry leaf (Mitchella repens)
1 oz. Blue Cohosh rt. (Caulophylum thalictroides)
1 oz. Geranium rt. (Geranium spp.)
40 drops Cotton rt. bark (Gossypium)
Combine all tinctures together. Mix well. Suggested dosage: 1 dropperful, 2 times a day.
It would be best to find an herbalist or naturopathic doctor in your area to suggest or make a similar blend for adenomyosis if you are interested in an herbal protocol for your healing program.
References
Adenomyosis. (Jan. 2017). Guy's and Thomas' NHS Foundation Trust. National Health Service (NHS). Retrieved from https://www.guysandstthomas.nhs.uk/resources/patient-information/gynaecology/adenomyosis.pdf
Adenomyosis. (April 2017). Pelvic Pain Support Network. Retrieved from https://www.pelvicpain.org.uk/conditions/adenomyosis/
Adenomyosis. (n.d.) Retrieved from: https://www.mayoclinic.org/diseases-conditions/adenomyosis/symptoms-causes/syc-20369138
Azziz, R. (1989). Adenomyosis: Current perspectives. Obstetrics and Gynecology Clinics of North America, 16(1), 221-235. Retrieved from: http://europepmc.org/abstract/med/2664619
Rabinovici, J., David, M., Fukunishi, H., Morita, Y., Gostout, B.S. and Stewart, E.A. (Jan. 2010). Pregnancy outcome after magnetic resonance-guided focused ultrasound surgery (MRgFUS) for conservative treatment of uterine fibroids. Fertil Steril. 2010 Jan;93(1):199-209. doi: 10.1016/j.fertnstert.2008.10.001. Epub 2008 Nov 14. Retrieved from https://www.ncbi.nlm.nih.gov/pubmed/19013566
Weed. S.S. (2011). Down There Sexual and Reproductive Health. Woodstock, NY: Ash Tree Publishing.
Rodriguez, H., C.H., C.M.T. (n.d.) 5 Steps to Reversing Endometriosis Infertility. Retrieved from: http://natural-fertility-info.com/endometriosis